Well, as you could tell from my currently, I got pretty sunburned at the beach. What it didn't tell you was that I have bridal portraits tomorrow. Needless to say, sunburn and bridal portraits probably don't go well together. It wouldn't have been as bad if it was an even sunburn, but I was splotchy sunburned! This has never happened to me! So, I come home a day early and go get a spray tan. Well, once again, my luck is awful. I run in to Walgreens and come out to a torrential downpour. So I wait until the rain slows up, and run to my car. When I get in, I look at my arms and it looks like I have "A Bad Case of Spots." Yep, David Shannon could have written a book about me. UGH. Luckily, I think I got it all evened out, but what a night.
Now that I'm done with my soapbox...a HUGE thanks to Amber over at
Adventures of a Third Grade Teacher
for blogging about my Jelly Bean Math page from TpT! Go check out her blog if you haven't already. She has some super cute ideas for spring on there I can't wait to do when we get back from break.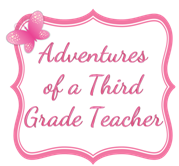 Before break we started some multiplication. Thanks to Katherine from
Third Grade Teacher Files
for posting the super cute Multiplication Monster to TpT. My kids LOVED it. Here is one of my kiddo's monsters! We added googly eyes for a 3D pop! :) He added 5 googly eyes and the rest were hand-drawn.
I'll be back tomorrow with more fun and the answers to my tag from Kelley at
Buggy for Second Grade
! :)