Well, I had my stuff all ready for Monday Made It yesterday, but had an incredibly crazy day. Hubby and I went looking for houses. This is round 3 after two failed attempts, one of which we waited 8 months for. Yes, you read that correctly....8 MONTHS! But, we found a house we LOVE and think that it was in God's plan for us to find the one we did last night. Now hopefully all this comes through! :)
Now for the good stuff. I LOVE picture books. What elementary school teacher doesn't? I've linked up with Lindsey over at the
The Teacher Wife
for Must Have Picture Books. (They are in no particular order)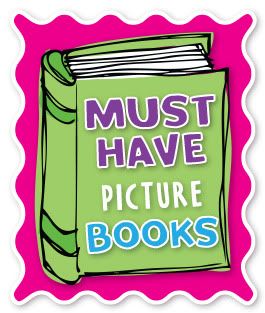 Barf Burger Baby
: I used this book to teach expression, and as a reward when my kids were great. They would BEG and BEG for me to read this book. It is hilarious, if I do say so myself. It does not have much literary value, but hey, it's good for some humor! :)
The Lorax
: Who doesn't love this book? This is my favorite Dr. Seuss book and is great for teaching so many different things such as rhyming words, the earth, conservation, fiction, etc. You could do so much with this book.
I Wanna Iguana
: Such a fun book! I used this, among many others, as a fun introduction for letter writing, particularly persuasive letters. The kids thought the letters were hilarious, and it really taught them how to put some of their personality in to the letters they wrote.
First Day Jitters
: I have to include this book just because of how it relates to my first year of teaching last year. I love how the whole book you think it's just Sarah the kid who doesn't want to go to her new school. This book describes me perfectly on my first day of my first year of teaching. With not being able to even get in my classroom until 48 hours before children came in the building, I was TERRIFIED and nervous as all get out. Such a great icebreaker on the first day of school. :)
Fancy Nancy
: I LOVE FANCY NANCY!!! I'm serious. I wish that they would have had Fancy Nancy books when I was younger. I think that every birthday party would have probably been Fancy Nancy themed. What a great book to teach synonyms for "dead" words, as we call them in my classroom. I just love all the Fancy Nancy books!!!
I know I have so many more favorites. I'm actually a nonfiction girl, too. My kiddos LOVED nonfiction, which is great with the Common Core finally coming into Georgia! Can't wait to go read all the other linkys!!! :)